Trade Development Unit
Unit Structure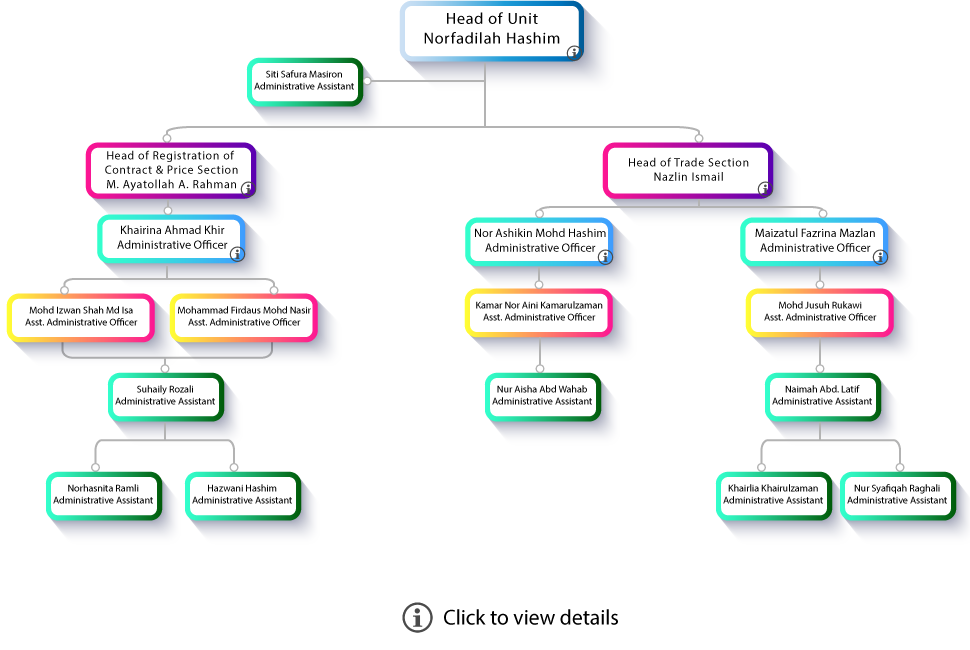 Objective
To enhance the well-being of the Malaysian oil palm industry through the dissemination of comprehensive and latest market information on Malaysian palm oil.
To implement the registration of contracts regulation and to ensure compliance of conditions imposed on the license regarding submission of Customs declaration forms.
To disseminate comprehensive, accurate and timely information on the domestic, export and world oils & fats market situation to facilitate trade decision making.
To provide inputs for establishment of a national palm oil development policy.
Information
The information provided by the Unit are:
Prices Daily, weekly and monthly prices
Prices of FFB, oil palm and palm oil products and processed palm oil products
Export

Export of palm oil, palm kernel and palm kernel cake
Export of oil palm products and finished products
Export of oleo chemical
Export of palm oil, palm kernel oil, palm kernel cake and oleo chemical by destinations

Data on import of palm oil World Oil & Fats Information on world oils & fats
Information on other palm oil producers
Country Profile
Input for government policies
Industrial Master Plan, Multilateral and Bilateral Negotiations
All the information can be viewed in MPOB website and Division publications such as Palm Oil Update, Review of the Malaysian Oil Palm Industry and Malaysian Oil Palm Statistics.
Contact Us
Any enquiries, please email to
Prices -

This email address is being protected from spambots. You need JavaScript enabled to view it.

Export -

This email address is being protected from spambots. You need JavaScript enabled to view it.

World Oil & Fats / Trade -

This email address is being protected from spambots. You need JavaScript enabled to view it.